Beanmill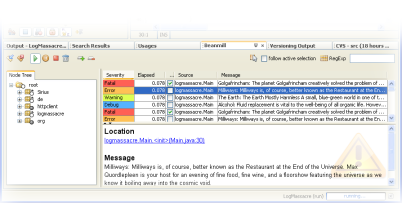 [flash http://blogs.cismet.de/beanmill.swf w=1016 h=839 preview=force mode=3 ]A component to visualize Log4J, JSR47 Logging Events (over Sockets) in your favorite IDE. Featurelist of this component:
Jump to the logmessages in the editor (Doubleclick in the table)
Jump to stacktrace elements in the editor (Single Click the links)
Filter with regular expressions
Filter with your editor selection on the fly
Show logmessages from certain classes (controlled out of the editor context menu)
Export/Import logmessages via XML
…
The code is based on the Lumbermill Log Viewer.
Beanmill has it own updatecenter under:
Beanmill has its own updatecenters under:

http://www.cismet.de/updatecenters/beanmill6/updates.xml for 6.0 and 6.1
and
http://www.cismet.de/updatecenters/beanmill6_5/updates.xml for 6.5 and 6.7
(Just copy the link and click the add-Button of the Plugin-Dialog and click on Update) Download the sources here.